The vehicle I am currently traveling with and constantly modifying is a 2006 Chevrolet Trailblazer. This is the first used vehicle I have ever owned/leased so there is a story behind the circumstances (see below).
The stock specifications are as follows:
short wheelbase LT model
4 doors
colour - (expedition) white
inline 6 cylinder engine
4 wheel drive transfer case with auto, high, and low (2.7 : 1 ratio) modes
onstar and xm satellite radio
The build so far has been extensive with some significant custom modifications.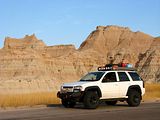 Back in early 2007, I had a moment of very bad luck. Click
Goodbye Ol' Blue
to read about it.
In hindsight however, the result has ended up being better than I could have imagined.